The International Pharmaceutical and Medical Device International Ethics & Compliance Congress is committed to the advancement of the industry's ethics and compliance profession. The life sciences industry continues to be a highly-regulated and high-risk industry, and adherence to applicable regulations and codes fosters a culture of "doing what is right". This forum enables participants to keep their fingers on the pulse of enforcement trends, engage in interactive discussions, identify best practices, and explore how to operationalize innovative solutions.
We are excited to announce the Congress will offer two preconferences on the morning of Day I. The first is an invitation-only, closed-session Chief Compliance Officer Roundtable sponsored by ETHICS and co-sponsored by the International Federation of Pharmaceutical Manufacturers and Associations (IFPMA), www.IFPMA.org, and MedTech Europe, www.MedTechEurope.org. The second is an interactive workshop on practical case studies built around analysis and codes-related education of the elements of an effective ethics and compliance program.
The Congress co-chairs are delighted to open Day I of the conference with our keynote speaker, Hani Abouhalka, MBA, Company Group Chairman, Medical Devices EMEA, Johnson & Johnson, who will address the evolution and future of the health care industry as a context to better prepare and shape the role of the ethics and compliance professional. Next, industry regulators and counsel will provide a comprehensive summary of the international anti-corruption landscape and the convergence of local legislation. Finally, senior compliance officers will discuss their compliance philosophy, governance, culture, focus for the future and key challenges impacting their programs.
Day II opens on how to embed ethics in a company's governance model and the value of having an ethical element on the Board and Executive Committees. Then listen as representatives provide updates on industry and regional codes. New this year, we are pleased to offer a new format for mini summits on relevant topics, which will engage faculty and attendees in interactive discussions and provide key take-aways to leverage in your programs.
The Day III closing plenary sessions address thought-provoking topics. Value based health care is a growing topic in both the pharmaceutical and medical devices industry that presents different challenges in the ethics and compliance space. Faculty will provide their perspective on what represents real value in a faster-changing health care environment, and their views on risk sharing models. Additional topics addressed include ethical interactions between the health care sector and emerging stakeholders, and the emergence of new technologies and artificial intelligence. The conference closes with an enthralling debate on the relationship between ethics & compliance and the implications for an effective compliance program. Learn the drivers for a sustainable ethical culture, including trust in business, the role of governance, trust in training and education, and trust in decision making with business partners.
We hope you will join our highly skilled faculty of experts from in-house compliance officers and counsel, regulators, trade association representatives and industry consultants and legal counsel as we share ideas on how to cultivate a culture of ethics and compliance with the highest integrity while networking with peers to build long lasting career relationships.
The First International Pharmaceutical Compliance Congress and Best Practices Forum was held in June 2007 to bring together company compliance professionals, regulators, lawyers, and consultants working in this interesting and expanding field. The purpose was to hold a truly global conference addressing the key issues impacting our industries. The first international conference agenda was developed with inputs from company compliance professionals on topics they wanted to know more about, which continues to be one of the greatest strengths of these conferences. Over the years, the International Congresses have been held in Berlin (2010), Brussels (2007, 2015), Budapest (2012), Dubai (2014), Istanbul (2011), Madrid (2013), Paris (2008), Rome (2009), Warsaw (2016), Lisbon (2017), Vienna (2018) and Athens (2019). In 2020, we are pleased to hold the Fourteenth International Pharmaceutical and Medical Device Ethics and Compliance Congress in Munich, Germany.
WHO SHOULD ATTEND


Pharmaceutical Manufacturers

Medical Device Manufacturers

Generic Pharmaceutical Manufacturers

Site Management Organizations

Clinical Research Organizations

Management Companies

Wholesale, Retail, Mail Order and Internet Pharmacies

Health Care Regulators and Policy Makers

Pharmaceutical and Health Care Executives and Board Members

Regulatory and Compliance Professionals

Medical Directors

Physicians and Other Health Care Professionals

Pharmacists


Food and Drug Law Attorneys

Health Care Attorneys and In-house Counsel

Compliance Officers

Privacy Officers

Ethics Officers and Corporate Social Responsibility Personnel

Pharmaceutical Consultants

Investment Bankers

Venture Capitalists

Health Services Researchers and Academics

Auditors

Promotion Signatories/Approvers

Risk Management Personnel

Governmental Policy Makers and Regulators
SPONSOR: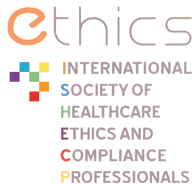 INTERNATIONAL SOCIETY OF HEALTHCARE ETHICS AND COMPLIANCE PROFESSIONALS (ETHICS) was incorporated as an Association governed by French law in January 2012, currently comprised of around 50 members all active in major pharma and medical device companies. ETHICS aims to be recognised as an independent international association of professionals, which sets standards of Ethics and Compliance and shapes and influences strategies in the changing Healthcare environment for the ultimate benefit of Patients and Society at large.